Notice
: Undefined index: use_background_color_gradient in
/home/content/p3pnexwpnas18_data03/18/42006418/html/wp-content/themes/Extra/includes/builder/class-et-builder-element.php
on line
9076
Notice
: Undefined index: use_background_image in
/home/content/p3pnexwpnas18_data03/18/42006418/html/wp-content/themes/Extra/includes/builder/class-et-builder-element.php
on line
9077
Notice
: Undefined index: use_background_color in
/home/content/p3pnexwpnas18_data03/18/42006418/html/wp-content/themes/Extra/includes/builder/class-et-builder-element.php
on line
9078
Three minutes. Eleven of Canada's best minds. The power of the spoken word
That's the formula for Canada's Three Minute Thesis Competition. It is a friendly but intense contest where graduate students present the complexities of their research in an engaging and accessible way before a live audience. In 2017, 42 of Canada's graduate schools used the competition to refine the communication skills of students. Workshops, writing seminars, and practice sessions with mentors are part of the 3MT experience and contribute to the confidence and skillset of participants.
Students, future employers and the Canadian community all benefit from graduate students who communicate clearly and effectively. It is important that Canada and the world knows about the important work these students do. They are an important asset to this country. That's why CAGS is proud to sponsor this project.
3MT Regional Competitions – April 2019 – dates TBA
Western Regional – University of Northern British Columbia – Angela Seguin, angela.seguin@unbc.ca
Ontario Regional – McMaster University – Correen Mascotto, grad3mt@mcmaster.ca
Eastern Regional – McGill University – Alistair Hibberd, Alistair.hibberd@mcgill.ca
3MT National Competition – Monday, June 3rd, 2019 – info@cags.ca

Getting to the national level requires winning at the regional events. In 2017, the University of Waterloo, University of Saskatchewan and University of New Brunswick hosted regional events. Videos from those events went live on the CAGS website for two weeks of public voting for the People's Choice Winner. A national judges' panel: Rob Baker (Tragically Hip), Nicola Luksic and Tom Howell (CBC Radio), and Ian Baines (engineer/entrepreneur) chose the top presentation.
CAGS sponsors the first place prize which includes $1,500 and an all-expenses paid trip to the CAGS annual conference. In 2017, the $1,000 second place prize was sponsored by Caisse Desjardins. And the People's Choice award was sponsored by MITACS and included a $500 cheque. "It is so much more than a competition – it is a skill-building program that helps profile the ingenuity, academic rigour and passion of Canada's graduate students Canada-wide 3MT project," says Sally Rutherford, CAGS executive director.
Organizers agree.
"We were so energized by the sense of community that emerged among the competitors, and by the support and encouragement the competitors received from coordinators across all institutions," says Angela Rooke, Manager, Professional Skills and Postdoctoral Affairs at the University of Waterloo. "They all deserve immense credit for making this competition such a positive experience."
We encourage you to take part in this amazing initiative in 2018.
Contact us for more details
And for francophone students who want to compete, we encourage you to contact our sister organization ACFAS for information about ma-these-en-180-secondes. CAGS collaborates on this event each year as it profiles the best in graduate research and communication.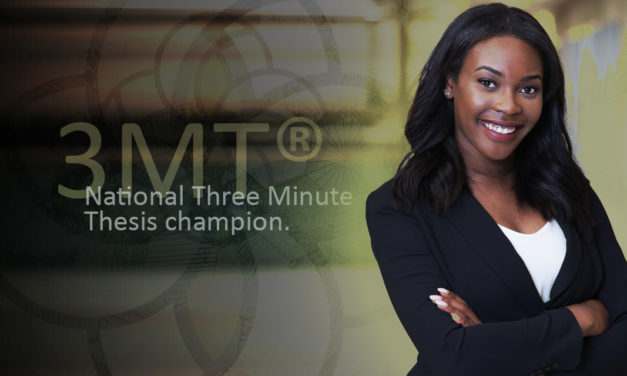 Winner: Chidera Nwaroh University of Calgary Ottawa – A master's student working on the...